I Have Evidence To Prove APC Government Sent Gunmen To My House –Osun LP Governorship Candidate
While speaking with Arise News' correspondent about the attack on his residence, Lasun revealed that he was considered a threat to the ruling party; hence an offensive attack to eliminate his life was launched before the election which is scheduled to hold on Saturday, July 16, 2022.
When asked by Arise News' correspondent if he has any evidence to corroborate his claim that the attack on his house was masterminded by APC Government, Lasun claimed he has evidence with the police.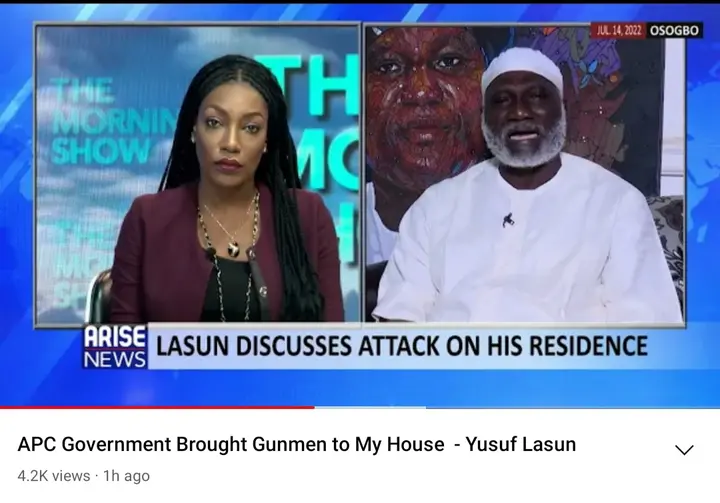 Journalist: Sir, you just said 'and you brought gunmen into my house', who brought gunmen to your house? Lasun: "APC Government, I can repeat that till the rest of my life." Journalist: Do you have evidence to back this serious allegation? Lasun: Yes, the evidence is with the police" –he said.
Yusuf Lasun said he is holding the APC Government responsible for the attack on his residence and he said his stance would not change for the rest of his life because he has evidence to prove it with the police.
Yusuf Lasun added that he is however, grateful to God for sparing the lives of the members of his family who were with him at the time of the attack. He said two of his children and his wife were at home with him when the incident happened.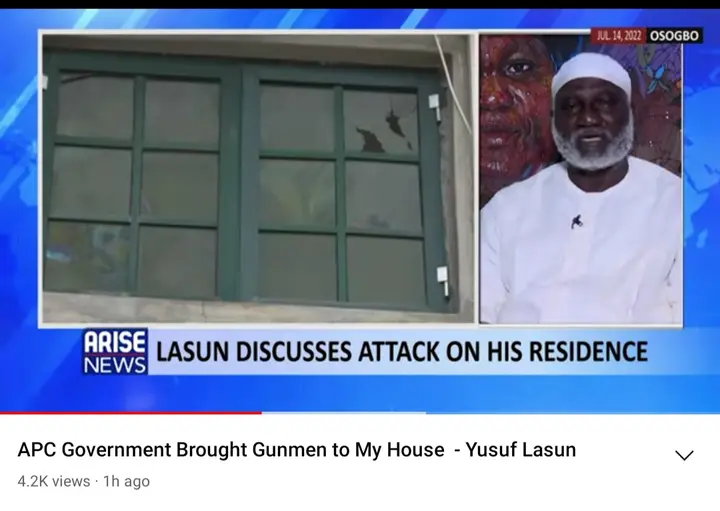 Reacting to a comment by a guest, who said he orchestrated the attack by himself because he wasn't considered a threat in the forthcoming election, Yusuf Lasun said he won't like to dignify the person with a response but he would put the person in the court of God.
"I am not going to answer the person that said it was just an orchestrated something. For the first time in my life, I will put that person in the court of God but if the person knows me quite very well, he will know that something quite terrible is about to happen. Because, my house was attacked, they came to kill me and members of my family and somebody went to radio because of politics and you are saying it was made-up"
Yusuf Lasun said his debate with the opposition party's Governorship candidates exposed that they do not know what Governance is about. He said that might be what instigated the attack on his residence.
He also explained why he wasn't present at the peace accord meeting. According to him, his schedule was tight as the peace according meeting clashed with his Mega rally, so he sent a representative to go on his behalf.
Click to watch Video. (Fast Forward to 9:15)